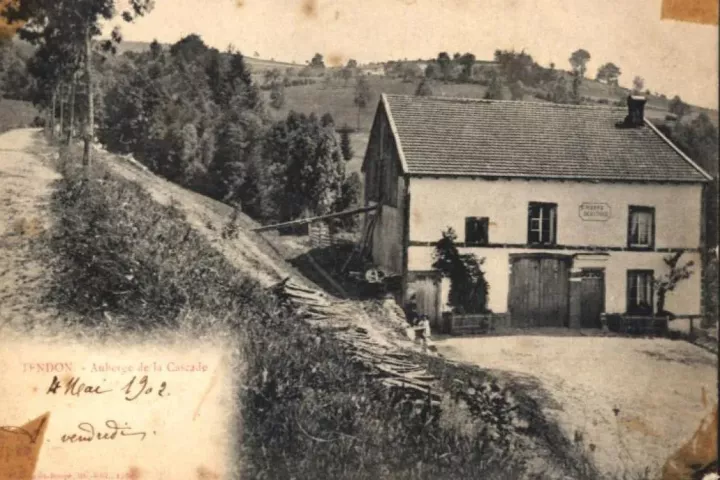 Hotel near to Mauselaine, Gerardmer ski domain.
The High Vosges
The Hotel of the Grande Cascade is located in the Vosges between Epinal and Remiremont. Holidays at the hotel of the Grande Cascade, are the promise of a pleasant stay in the Vosges Mountains, close to Gerardmer, the ski slopes and hiking trails. Our hotel also has a panoramic restaurant the O' Creux Gourmand "with a magnificent view of the great Tendon waterfall (accessible via a pleasantwalk). The Hotel of the Grande Cascade is a 2 star hotel and 2 chimney classified Logis.
Rooms and half-board in Gerardmer
at the hotel La Grande Cascade
The Hotel of the Grande Cascade proposes stayson a full board or a half board basis, very practical formulas, especially after a long day on the slopes. Vacationing families are welcome. We welcome you in one of our family rooms. Most of of our rooms have a panoramic view over the valley and are very spacious.
All rooms have TV and WiFi (except in some rooms, in this case WiFi is then accessible in the lounge the hotel) and large wardrobes. Our rooms are equipped with bathrooms with shower or bath, hairdryer and separate toilet.
OUR ROOMS: :
• Panorama Rooms: rooms with balcony for 1 to 4 people
• Cosy rooms: 1 to 3 people
• Family rooms: 1 to 4 people
Non classified studios
Studio rental in Gerardmer
A few steps away from the Grand Cascade, our 8 studios offer budget accommodation for families with restricted budgets. Especially designed for those who prefer the adrenaline of Gerardmer ski slopes and independence of an equipped studio to hotel rooms, they are on the trail that leads to the Grande Cascade.
Rented for 2 nights, for a few nights, a week or a few months, some of our studios have views of the valley, terrace or balcony with barbecue loan in the summer and take-away dishes available all year round.
Studio with ski rental in Le Tholy
The annex to the hotel of the Grande Cascade has ski storage; garden furniture and barbecue for stays in summer. Each studio can accommodate 2 to 5 people and it is also possible to rent more if you come in a group.
2/5 person equipped studios near to the Mauselaine slopes
All our studios are equipped with kitchenettes and bathrooms with bath or shower :
• Cooking hobs
• Refrigerator
• Coffee maker
• Extraction fan
• Cookware
Our studios can accommodate from 1 to 5 people.
Business stopover Epinal Remiremont
at the hotel La Grande Cascade
The hotel of the Grande Cascade offers two options for its business stopover :
• Charming stopover with panoramic room, sauna and a la carte dinner.
• Economic stopover with dinner, bed and breakfast.
Seminar rooms
Seminars in Gerardmer
Our panoramic rooms are equipped with flipchart, screen and WiFi; on-demand, video projector, fax and phone.
Depending on your needs, our team offers various formulas:
• Room rental
• Day conferences
• Residential formulas
• Possibility of group activity on reservation (massage, geocoaching, guided hikes)
Dedicated lounge for a lunch break with total confidentiality.
Biker relay on the RN66
Yes, Alsace and the Vosges have their Route 66, certainly less mythical, but equally breathtaking, the road that connects the two departments is a delight for bikers with hairpin bends overlooking lakes and beautiful scenery. An unforgettable journey that provides you with something of the Great West. Extend the dream stopping at the Hotel of the Grande Cascade, near Gerardmer in the heart of the Vosges where a warm welcome awaits you.
Biker hotel in the Vosges
Bikers, look no further, the Hotel of the Grande Cascade is for you if you just want to cross the Vosges and its magnificent ridge road : Tips for driving on the most beautiful routes, independent garage for up to 60 bikes, drying room for rain gear ... well, you are at home here !
Hotel opening hours
Arrivals are from 4pm to 6pm every day (please contact the reception by phone between 4pm and 6pm if you cannot be there to collect your keys)
Rooms must be vacated before 12 noon